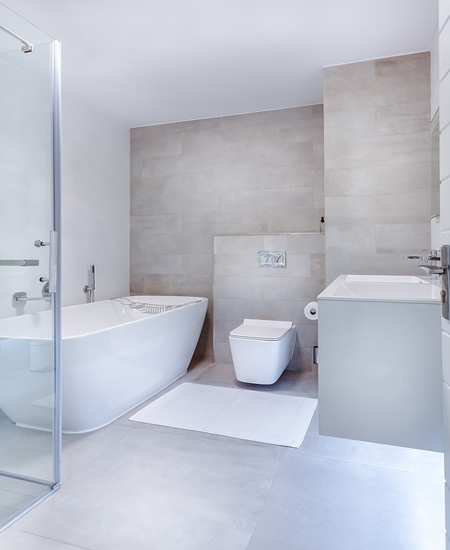 Make-Over Mistakes That Downgrade Your Bathroom
Are you renovating your bathroom? Are you thinking of replacing your existing bathroom? Please do not make the awful mistakes some people have. Simple mistakes can lead to disaster.
Bathrooms and kitchens are rooms that are used by many people in the home and should be designed for function first, and style, second. Essentially, you should decorate a bathroom in a classic and neutral way, to keep it from dating, and to preserve the appeal, of your bathroom, for resale purposes.
1. Never Buy Cheap Fittings!
You've splurged on tiles, and a good quality bath, and now your budget is depleted, so, you opt for the more budget-friendly taps. Never do this. As a rule of thumb, you should over-budget by as much as 20% for a bathroom. It's small room, but, highly functional, and in the long run, spending more, will pay you off tenfold.
When you look at reselling your home, you will deeply regret the cheaper fittings. Cheaper fittings will not last as long as more expensive, ones, either – invest in your fittings, and swap out the fancy flooring, for something that is a little less costly. It will pay you off, in the long term, to do this.
2. Is Your Toilet Squashed Into An Unsuitable Space- In between the shower and a wall?
Function. Function. Function. You are going to spend a proverbial penny, quite often, and your bathroom ergonomics are very important. Ease of use, and the placement of your shower, bath, sink, toilet, and bidet, in relation to each other – is extremely significant.
A bathroom is a small room that must function at a high level, and if you do not have enough space – it can be a disaster. Imagine how uncomfortable you are going to be, trying to squeeze yourself into a tiny space, to spend your pennies. Never compromise space, for style, or extra storage, when it comes to the essential function of a bathroom.
3. Do You Have Sufficient Storage Space?
While you should never pack in extra storage, at the expense of the utility function of a bathroom, storage is actually one of the most commonly overlooked areas of many bathroom designs. It is a good idea to use wall space, or to use a vanity sink, and have cupboards, too, if there is room.
It is important to consider using unusual areas, too, for shelving, such as the corners, of a room. You can easily turn a corner into a storage space, by adding in a few shelves. A mirrored cupboard is a great way to combine form and function.
4. Do You Have A Bathroom Window?
A bathroom is filled with moisture, and you need good ventilation. Do you have a bathroom window? If you do not, you need to install a ventilation fan. Moisture can lead to mould which is not only unsanitary, but can create algae, and be a health issue – it's not good to breathe mould spores, and black algae is unsafe, and can trigger allergies.
A window can provide natural light, for your bathroom, but should be glazed, to ensure your privacy. Curtains, or blinds, are also a good idea.
5. 'Modern' or Classic
If you are revamping or building a new bathroom, be sure to choose neutral colors and a classic design. While some styles look trendy and modern, now, in a decade or two – they can date, and look rather vintage.
For example, glass sinks were a trend at one time, and they can look very stylish – however – in time, they will date, and perhaps, look a little tired. What looks like a modern feature, now, may look stale in a relatively short time.
Bathrooms can be accessorized with modern touches, but, classic features are generally a safer option. It would be a wise move to move away from the bold yellow pallet you like and simply switch to bold sunflower yellow towels. Leave the walls alone.
Bathroom Design
Your bathroom is a room that has a very practical purpose, and, while you may be tempted to decorate, and style, your bathroom to match modern trends, it isn't always good long term idea. Make sure that your fittings are the best quality that you can afford, and, consider rather sticking to a neutral palette.
Consider creating unique storage areas, and remember that your shower, bath, and loo, need to be comfortable, and easy to use. Your budget needs to be about 20% higher, than what you might have planned for. Investing in your bathroom will pay your off ten-fold in the future.
Photo Courtesy of jeanvdmeulen